One of our favorite quotes these days is very simple –


As I look back on even just the last month, I can find so many things to give thanks for.
For the work that God has given us.
Everything from re-siding a building –


to installing a snackshop window.


to painting


to sorting and packing clothes


to painting lambs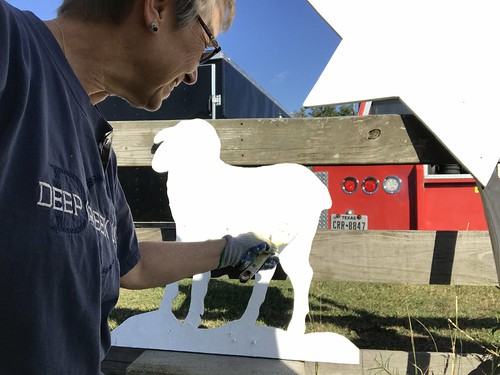 we were thankful to be able contribute as we were able.
Looking back we are also thankful for the people we met last month.
The SOWERS we worked with –


the Montana Men –


the California Crew


(we got to share Thanksgiving with them!)
and the folks from the church – Pastor John and Pastor Mike and their families, Smitty, and Shane, and others who joined us for devotions – God enlarged our boundaries for sure this past month!
We give thanks also for the places we've visited this past month –
The Houston Space Center –


I think the space center was especially interesting to us because this is OUR history.   When we walked through Command Central, it didn't seem so much like history as just plain remembering.


"Houston, we have a problem."
And then there were our trips to Galveston –
The Ferry ride –


The drive around the historic homes to find all of the tree sculputers


and even our train-filled, expensive coffee, no museum for us, lost wallet day –


Yes, even for that we can be thankful. Oh, we're not HAPPY about the lost wallet, but we can still be Thankful. Hey, we haven't lost a wallet since 2004 – so that's a good thing!
Looking back and giving thanks – how can we not?
Looking ahead and trusting – we'll save that for another day!
Thanks for stopping by,

PS – If you'd like to see more pictures from our thankful (recent) past, check 'em out at the following links –
Galveston
Houston Space Center
SOWER project at Gulf Shores Four Square Church