It's always hard to know where to start when it comes to a recap of one of my favorite weeks of the year – Girls Week. With very few exceptions, my two sisters (Elna and Joie) and I (and occasionally a few other miscellaneous daughters 🙂 ) have spent an early summer week together for the last twenty (or so) years. For all but the last two years we've spent it up at our family cabin in Vermont (AKA The Cabin), but this year we once again met at Joie's house in Perry County, PA. And once again, although it had a different flavor than our time spent at The Cabin, it was still wonderful, wonderful, wonderful!
It was wonderfully filled with special sister time! We enjoyed a lovely overnight at a B&B up in Selinsgrove, PA that included dinner out, a thrift shop stop and an almost private screening of "Moms Night Out".


(Hilarious movie, by the way! A bit over the top, but oh-so-funny!).
We took our time getting back to Perry County, and enjoyed yard sales and shopping and maybe just a bit of ice cream. (Ice Cream is totally acceptable for lunch during Girls Week.  Just saying. ) Oh, and a fair bit of giggling.


It was wonderfully filled with Family – Joie's son Jon and family came for the weekend and our son Josiah and family came for Saturday. Let me tell you, that house was filled with really, really cute kids on Saturday!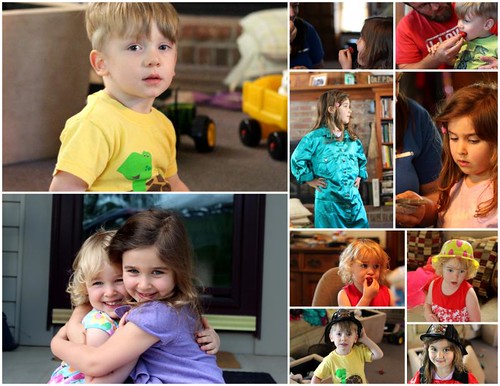 There was Ada (the brunette), Roslyn (the blonde) and Weston (the boy!). And then there was the newest member of the Fitzpatrick clan –


Baby Cora (2 months). So very dear!
The grown-ups were pretty fun too -they just didn't get in the way of the camera as much! Jon, Emily and their beautiful daughters are moving to Minnesota this weekend, so it was especially wonderful to be able to connect with them.


And I had been longing to love on that little Weston and his Mom and Dad – so, let's just say it was a pretty perfect day!
But there was more family wonderfulness to be had.  After a restful LORD's Day (worship and naps greatly appreciated), and a quiet Monday morning, we drove to Chambersburg to spend the afternoon and evening with more of Joie's grandkids (and their parents).


*Contented sigh* I love these guys!
When we weren't hugging kiddos or eating chicken corn soup and homemade bread or sorting through our wonderful yard sale purchases or telling stories or solving the problems of the world, we were looking through stacks of old pictures.


Like really old pictures. Ones from as far back as the 1920's up until about the mid '60's. We were trying to identify people and figure out dates. And decide which ones we could throw away. If we couldn't identify anyone or it was a picture of the big catch of the day (Beach Haven, 1954) – we tossed them. I think we eliminated about 8. But we did find many treasures. Like this one – of my parents as young lovers –


and this one of my mom (on the left) and her sister (we think) dressed up as …..


I don't know – you tell me!? Such wild and crazy teenagers! (Is that a tin can on her head?)
We laughed, we puzzled, we remembered, and we learned a valuable lesson – LABEL YOUR PICTURES!
And before we knew it, GW2014 was wrapping up. To have spent those days with my sisters, looking back at our rich family history and heritage and then looking forward and holding the future of our family in our arms – these are days to be treasured. And treasure them I do! How blessed I am to have sisters that are not only sisters by birth but also sisters in the Lord. And on top of that – sisters of the heart.


Blessing upon blessing!
There are some additional photos (along with all of the individual shots from the collages) HERE if you'd like to see more.